Libyan National Army forces have detained MV MABROOKA (IMO 9328613) offshore of Derna.
The LNA Sousse Marine Company detained the Jamaican flagged, Turkish owned cargo MV MABROOKA (Mabrouka) on 5th December while on route to Misrata after it reportedly entered the restricted zone offshore of Derna and failed to respond to calls.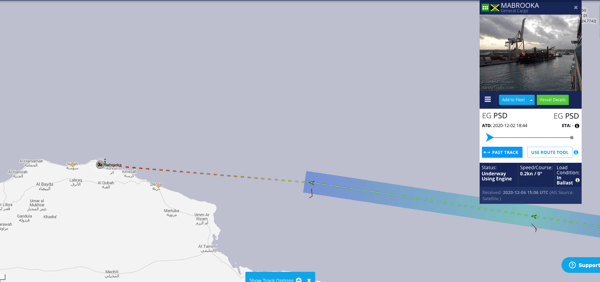 The LNA spokesperson issued a statement that the vessel had been "intercepted and was then towed to Ras Al-Halil port". The crew aboard, reportedly comprised of 9 Turks, 7 Indians and 1 Azerbaijan have been detained for "investigation for it's violation of the maritime regulations and laws" .
The waters offshore of Derna are the highest risk in Libya, due to the history of incidents and vessels detained. Vessels are advised to maintain caution when transiting this region and maintain at least 50nm offshore.
Tensions are rising in Libya over the presence of Turkish warships offshore of Misrata, which has prompted a mobilisation of both LNA and GNA forces towards Sirte.