The Nigerian Navy has released a statement cautioning the general public and the nigerian press about inaccurate news reporting. The statement comes after an alleged attack involving a security escort vessel on 25 Feb 21 was misreported by various maritime monitoring organisations.
In a statement by the Chief of the Naval Staff, Commodore Dahun refers to an incident report on 25 Feb 21 that concerned an alleged attack involving a security escort vessel. Dryad Global was amongst a number of organisations to have reported the event that was believed to be correct by international monitoring organisations at the time. The incident was reported as unconfirmed and was pending further investigation.
Counter to the Nigerian Navy press statement, reporting by Dryad Global did not suggest a hijack incident. The original report was redacted once further clarifications revealed that the initial reports were not substantiated. A clarification was issued 26 Feb 11:30 UTC stating that no incident had occurred and that it may have resulted from inaccurate reporting by an operator of SEV services (unverified).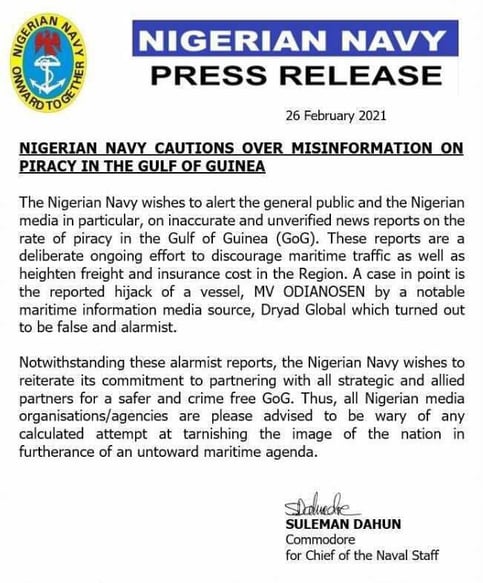 Dryad Global is committed to providing accurate independent maritime security analysis to ensure the safety of life, cargo and vessels at sea and in high risk areas. Its reporting of security events in the Gulf of Guinea correlates with numbers released by the IMO and other international maritime security monitoring organisations. Dryad strives to keep clients and the wider maritime community informed on security events with fast, unbiased decision aids that are focussed on facilitating commercial operations in complex environments.