A deep freeze that hit Texas over the weekend wrought more havoc on the U.S. energy sector on Tuesday, curbing output in the largest U.S. oil field, knocking out a fifth of the nation's refining capacity, and shutting a key shipping channel in Houston.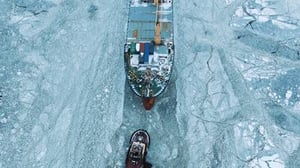 Historic cold has knocked out roughly 4 million barrels per day of refining capacity, more than one-fifth of national capacity, according to Reuters calculations. About 500,000 to 1.2 million bpd of crude production has also been affected, and it could be weeks before it is fully restored, industry analysts said.
Around 5.3 million customers were without power nationwide due to winter storms. Texas was hardest hit with around 4.4 million customers affected, according to local power companies, as the state's electrical grid operates largely independent of other states and therefore cannot draw power from nearby operators.
"The entire Texas system from the wellhead to the electric meter on a home is more designed to deal with multiple 100 degree days than multiple single-digit days," said Todd Staples, president of the Texas Oil & Gas Association.
Many refiners, including the biggest in the United States, have shut down due to the freeze. Around 4 mln bpd, or 21% percent of U.S. refining capacity, is shut, the biggest weather-related hit since Hurricane Harvey rumbled through the Gulf in 2017.
"We're talking about a major portion of the U.S. Gulf Coast refining capacity currently being offline, in all likelihood, above 4,000,000 barrels a day," said Marc Amons, senior research analyst with Wood Mackenzie.
The cold snap sent U.S. oil prices to near 13-month highs, while front-month gas futures jumped to an over three-month high.
In the spot market, next-day power at the ERCOT North hub
Houston — Petrochemical producers were shutting down plants and some declared force majeure on products they make as a historic deep freeze enveloped the US Gulf Coast.
Here is a rundown of confirmed fallout from the freeze:
FORCE MAJEURES
SHUTDOWNS
Olin: Freeport, Texas complex, with 3 million mt/year of caustic soda capacity. 748,000 mt/year of EDC
OxyChem: Ingleside, Texas, 544,000 mt/year cracker; 248,000 mt/year chlor-alkali; 680,000 mt/year EDC; Deer Park and La Porte, Texas, 1.27 million mt in PVC capacity; 1.79 million mt/year of VCM capacity; 580,000 mt/year chlor-alkali
Shintech: Freeport, Texas: 1.45 million mt/year PVC
Formosa Plastics USA: Entire Point Comfort, Texas, complex, including three crackers with a cumulative capacity of 2.76 million mt/year; 875,000 mt/year of high density polyethylene; 400,000 mt/year of low density PE; 465,000 mt/year of linear low density PE; 798,000 mt/year of PVC; 1 million mt/year of caustic soda and 910,000 mt/year of chlorine; 753,000 mt/year of VCM; 1.478 million mt/year of EDC; and a cumulative 1.17 million mt/year of monoethylene glycol operated by sister company Nan Ya Plastics.
ExxonMobil: Baytown, Texas, refining and chemical complex, including three crackers with a combined capacity of 3.8 million mt/year
ExxonMobil: Beaumont, Texas, refining and chemical complex, including an 826,000 mt/year cracker; 225,000 mt/year HDPE; 240,000 mt/year LDPE; 1.19 million mt/year LLDPE with some HDPE capacity
Dow Chemical: Certain units offline within Dow sites along the US Gulf Coast, but the company did not specify. Dow's Gulf Coast operations include a complex at Freeport, Texas, with three crackers able to produce a combined 3.2 million mt/year, two LDPE units with 552,000 mt/year and 186,000 mt/year HDPE; Dow's Seadrift, Texas, complex includes 490,000 mt/year LLDPE and 390,000 mt/year HDPE
TPC Group: Houston site shut down, including 544,310 mt/year butadiene unit, when boilers lost steam
Motiva Chemicals: Port Arthur, 635,000 mt/year mixed-feed cracker
Shell: Deer Park, Texas, refining and chemical complex, including two crackers with a combined 961,000 mt/year of capacity
Shell: Norco, Louisiana, refining and chemical complex, including two crackers with a combined capacity of 1.42 million mt/year
Chevron Phillips Chemical: Pasadena, Texas, 998,000 mt/year HDPE
PRICES
MTBE prices rose 8.04 cents/gal on the day to 177.07 cents/gal FOB USG in line with front-month RBOB futures
Polymer prices held steady amid muted activity
PORTS AND RAILROADS
Houston Ship Channel: shut mid-afternoon Feb. 14; late morning Feb. 16 reopened to outbound traffic only, then reopened to inbound as well.
Sabine Pass: port shut mid-afternoon Feb. 14, resumed inbound traffic midday Feb. 16
Corpus Christi: port shut Feb. 14, resumed boarding vessels Feb. 16
Union Pacific advised customers Feb. 15 to expect delays of a minimum of 72 hours on shipments in impacted areas until conditions improve.
BNSF Railway advised customers on Feb. 16 that many trains were holding due to widespread power outages and road closures that affected movement of train crews and other personnel, and delays in shipments were expected to last until conditions improve.
Sources: Maritime Logistics Professional & S&P Global