Reporting from TankerTrackers.com indicates that three Iranian tankers have departed Iran, with a suggested routing to Venezuela, via the Suez Canal. The three vessels in question are:
- FOREST (IMO: 9283760), Iranian-flagged oil and chemical tanker.
- FAXON (IMO: 9283758), Iranian-flagged oil and chemical tanker.
- FORTUNE (IMO: 9283746), Iranian-flagged oil and chemical tanker.
The vessels are believed to have conducted previous Iranian oil shipments to Iran in the June of this year. Information supplied by TankerTrackers.com indicates that following loading in the vicinity of Port Shahid Rajaee, Bandar Abbas, the vessels have then switched off their AIS transponders. The last broadcasted locations of the vessels are as follows:
- FOREST (Bandar Abbas anchorage, 14th August 2020).
- FAXON (off the coast of Khor Fakkan, UAE, 31st August 2020).
- FORTUNE (off the coast of Bandar-e-Jask, South Iran, 28th August 2020).
It is likely that all three vessels will turn their AIS transponders back on upon approach towards the Suez Canal, to comply with regulations when transiting the canal.
Assessment
The decision to resume Iranian oil exports to Venezuela once again ratchets up the tension in the region, and sends a clear signal that Iran is not willing to allow US interference in its transactions with other states.
Two recent incidents add to the context of this resumption of exports. Firstly, in August the US Justice Department seized the cargoes of four vessels which were linked to Iranian-Venezuelan oil shipments. Secondly, the vessels in question which had their cargoes seized by the US were linked to Greek interests and companies, and in response Iran was quick to board the Liberian-flagged MT WILA, which was also believed to be linked to the same companies (Palermo S.A).
It is likely that Iran has learnt from this previous experience that foreign-owned vessels will be more willing to comply with US restrictions and requests, and in turn Iran has sought to bring the vessels it uses 'in house'. All three vessels which are currently of interest are Iranian managed and owned.
It remains a credible possibility that if the tankers do intend to transit to Venezuela, that the US will seek to again intervene. However, Iran has raised the stakes and has utilised vessels which will likely not be willing to give up their cargoes or comply willingly with the US. This therefore increases the likelihood that to act the US would be forced to board and/or detain the tankers, however it is not yet clear whether the US believes it is in their national interest to follow this course of action, or if it is operating within a legal framework which would allow it to do so.
If the US were to act, Iran's response would be swift and proportionate. Iranian activity within the Strait of Hormuz and Gulf of Oman in recent years has closely followed a 'tit for tat' model of activity, which has seen Iran seek responses to outside interventions which can be viewed by third parties to be proportionate. It is likely in such an instance that Iran would target a similar number of US and/or Saudi vessels, or cargoes, in a similar manner to the incident that they are responding to. Due to the UAE's formalisation of its relationship with Israel in recent weeks, it also remains a realistic possibility that UAE-flagged vessels and/or UAE cargoes, would also be at risk of being seen to be legitimate targets during an Iranian response.
Another variable which further complicates the security picture in the Gulf of Oman and Strait of Hormuz is that between 0130 UTC 4th September and 1830 UTC 10th September, Iran intends to conduct live-fire exercises in the Gulf of Oman and Strait of Hormuz. These exercises will take place in a larger area of operations than is usually seen during Iranian exercises, and will encompass the following area: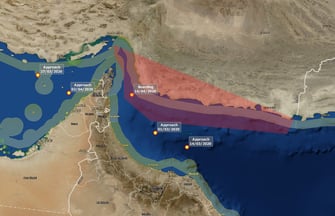 It remains a realistic possibility that the timing of such an exercise is less than coincidental. Iran is likely attempting to create the perception that the exercise could quickly re orientate into a blockade of the Strait of Iran, should the US detain Iranian tankers. It is currently assessed that Iran does not possess the capacity to close the Strait of Hormuz, however this is not currently of concern to Iran – its strategy is to signal intent.