The US has deployed a navy ship to the port of Mombasa to boost maritime security in the region.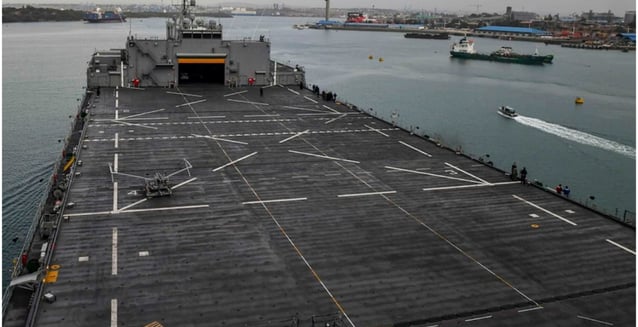 The Expeditionary Sea Base USS Hershel "Woody" Williams ship arrived in Mombasa on February 8th in support of the US 2021 Africa coast deployment. This is the first US Navy ship to enter the port of Mombasa in over a decade.
"Kenya is a close U.S. strategic partner in Africa. Our visit to Mombasa confirms our resolve and commitment to the preservation of security and stability in Kenya and Africa," said Captain Michael Concannon, commanding officer, USS Hershel "Woody" Williams.
US Chargé d'Affaires ad Interim to Kenya Eric Kneedler said the arrival of the ship demonstrates the close ties between the two countries.
The port visit provides engagement opportunities between Kenyan officials and military leadership. Participants will tour the ship and learn about the many capabilities it brings to maritime security in the region.
The US Navy said the tours will be limited to open space areas of the ship only due to COVID-19 restrictions.
"Williams is currently deployed to the eastern coast of Africa to demonstrate their growth in strategic partnerships and US commitment to African countries through interoperability training, maritime security, and safety to allow for freedom of navigation in the region. The ship's rotational crew swap allows unlimited operations in the Africa area of responsibility," the US Navy said.
The 784-foot-long ship consists of a 52,000 square-foot, four-spot flight deck that helicopters can land on and can host up to 250 personnel.
It has high tech surveillance systems to facilitate maritime operations such as counter-piracy, disaster relief, and crisis response operations.
Source: Mwakilishi