Despite this positive point of view, the risks posed by more transmissible and potentially vaccine resistant COVID-19 variants could lead to countries shuttering their borders or ramping up biosecurity protocols once again. Accordingly, pre-departure preparation and planning remains vital, and vessels should anticipate biosecurity protocols to be in place for some time yet, including testing and quarantine. Ashore restrictions continue to fluctuate in most superyacht destinations and can change at short notice – travellers should check government public health guidelines ahead of departure and at regular intervals throughout their journey.
Dryad Global distributes our Pegasus Serve Global Security Summary (GSS) to our superyacht clients very month of the year. The GSS provides our clients with detailed overviews of maritime security risks for 7 regions and 35 countries around the world. In addition to current COVID-19 restrictions and country/port entrance procedures, clients receive notification of the most recent maritime events and analysis of longer-term threat trends. Added to which we provide detailed assessments of risks ashore and country and region specific operational and security recommendations that give our superyacht clients peace of mind, even when operating in higher risk areas.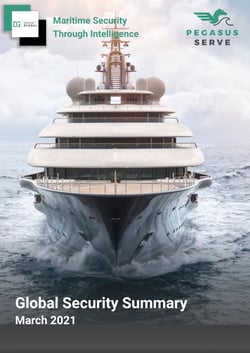 In the Caribbean, most cruising destinations are now open with established bio-security protocols in place. Trinidad and Tobago remain closed to yachts, despite regular lobbying from the local yachting industry. Jamaica is also closed with the exception of yachts making technical calls. Several thefts were reported in St Martin in April in Marigot Bay and Orient Bay. Legacy incidents for earlier in 2021 in Trinidad and Tobago were reported this month, with multiple thefts having occurred in Chaguaramas Bay in February and March. Some countries, such as The Bahamas, have announced changes to biosecurity protocols for vaccinated travellers who are now exempt from testing requirements upon arrival. Because of the surge in COVID-19 cases in South America, several countries, including Panama, now require South American arrivals to undergo additional quarantine. 
All yachts transiting the Mediterranean should continue to be aware of the migrant crisis that is driving illegal immigration to the EU and have procedures in place should they encounter a migrant vessel. Greece is currently closed to yachts. The conflict in Libya continues to influence the maritime security narrative in the Central and Eastern Mediterranean, albeit the maritime domain is relatively benign compared to the risks ashore. Morocco and Algeria remain closed as destinations for yachts. The EU has announced that the Digital Green Certificate, will be ready by June. This will allow vaccinated tourists to travel freely throughout EU Member States without being subject to COVID-19 travel restrictions. As rules for yacht arrivals vary throughout the Med and Europe, this will likely make cruising easier.
In the Middle East, the UAE remains open to yachts with testing required prior to entry and quarantine potentially required in the event of a positive test. Israel continues to be closed to yachts in line with the countywide ban on foreign nationals. The seeming success of the county's vaccine programme may lead to a change in regulations in the coming months. In the Indian Subcontinent, both Sri Lanka and India remain closed to yachts while the Maldives is open. The situation in India seems unlikely to change anytime soon as the country struggles to cope with a rapid escalation of COVID-19 cases amidst a devastating second wave of infections.
In East Africa, Tanzania, Kenya, and Djibouti are understood to be open to yachts with biosecurity protocols in place. The wider maritime security in the region continues to be influenced by the conflict in Yemen and the insurgency in Mozambique's Cabo Delgado region. The recent attacks in the town of Palma and the persistent escalation of unrest in Cabo Delgado, which has taken on a maritime element, has led to Lloyd's JWC announcing a change to the high-risk area (HRA) off the coast of East Africa. Yacht owners and operators are reminded that they should inform MSCHOA and UKMTO if transiting the HRA.
In SE Asia, the fallout from the military coup in Myanmar continues to create uncertainty within the county. Thailand is permitting yachts to enter, provided they observe a quarantine – it is expected that Phuket will open for vaccinated tourists as of July 1 with no quarantine required and this will likely apply to yachts. Vietnam remains closed. Singapore is open for yachts. Incidents on board vessels while underway in the Singapore Strait continue with little sign of them abating. Incidents in this region have been on an upward trajectory since 2020 and multiple incidents were reported within the eastbound lane of the Traffic Separation Scheme (TSS) in April.