Greece has moved in almost its entire naval fleet in response to manoeuvres in the eastern Mediterranean by a Turkish research vessel and accompanying warships.
The Greek vessels, which are accompanied by submarines and aircraft, have formed a line blocking any further advance by the Turkish research ship Oruc Reis, which arrived between Crete and Cyprus on Monday.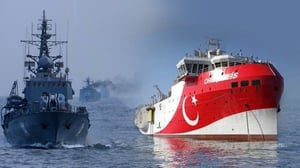 Turkey's Ministry of Defence released photos of the seismic research vehicle moving while flanked closely by five warships.
The Greek press has reported that in total Turkey has more than 17 ships in the contested waters between the Greek islands of Rhodes and Kastellorizo.
These vessels have been sent in addition to the warships accompanying the Oruc Reis.
The research vessel has reportedly started dropping cables, part of the seismic analysis process, but cannot continue its survey because of its proximity to hostile Greek ships.
The Turkish coastguard said a Greek vessel opened fire on a private Turkish boat. Two Turkish citizens and a Syrian were injured in the incident.
The naval build-up in the region was sparked by the departure of the Oruc Reis from its port in Antalya, Turkey.
Athens and Ankara are locked in a years-long dispute over access to water in the eastern Mediterranean that are rich in natural resources.
At the heart of the disagreement are areas that border the many Greek islands in the region.
Turkey's claims to the waters, which it says are on its continental shelf, have repeatedly been dismissed as illegal by Greece and its allies.
The old dispute between Greece and Turkey has increasingly drawn in other Mediterranean nations and intersected with Libya's violent internal conflict.
In December, Ankara and Libya's Government of National Accord in Tripoli signed an agreement on maritime borders that favoured Turkey.
In exchange, Ankara promised military support to the government in Tripoli. Last week, it said it would be conducting military exercises on Monday and Tuesday in a nearby area, south-west of the Turkish coast between Turkey and the Greek island of Rhodes.
"Greece will not accept any blackmail. It will defend its sovereignty and sovereign rights," Greece's Foreign Ministry said.
"We call on Turkey to immediately end its illegal actions that undermine peace and security in the region." Source: The National