11 min read
Our ugly encounters with sea pirates, by fishermen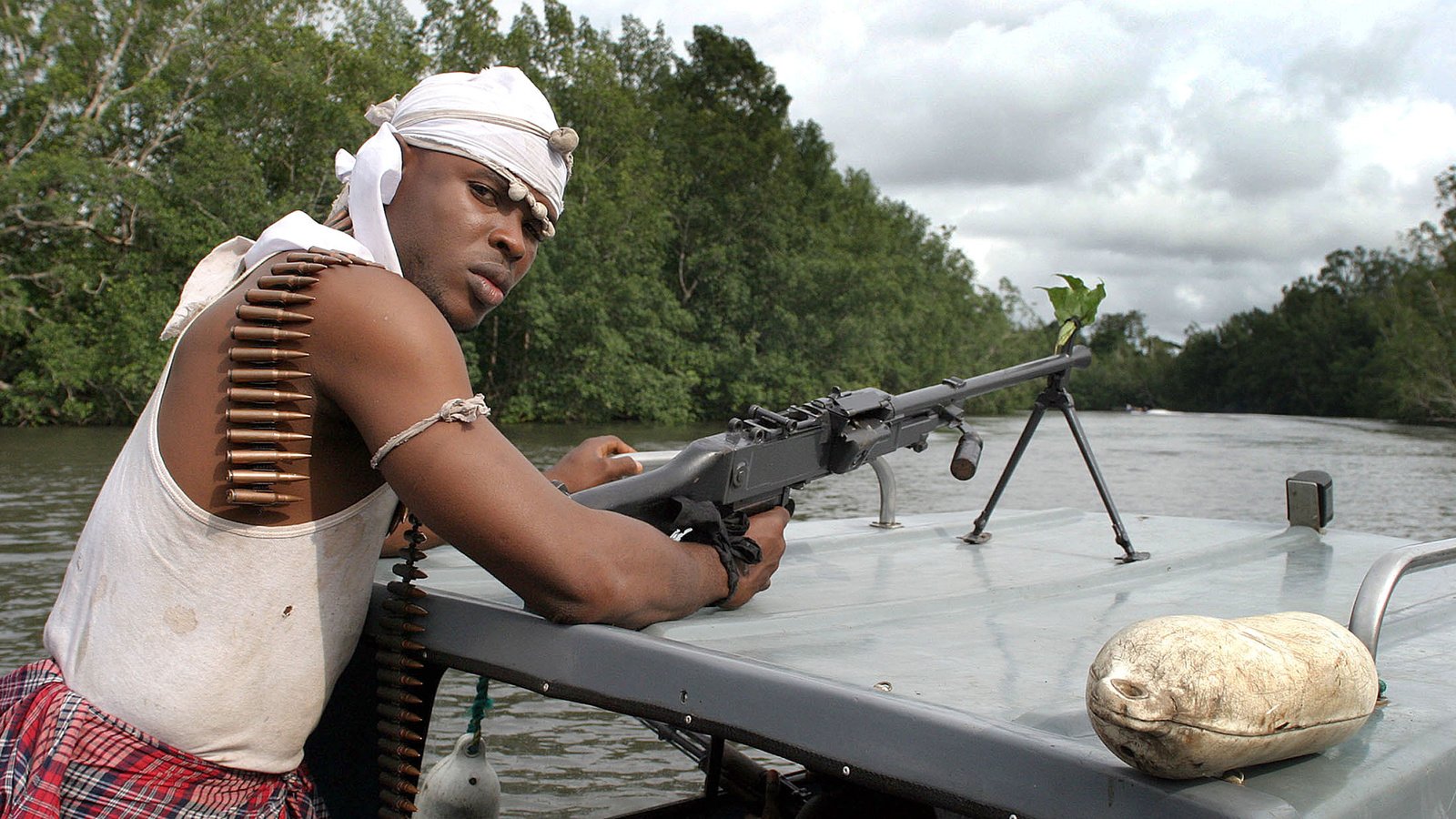 Travelling or doing business on the waterways in the country, especially the Niger Delta region, has become a nightmare on account of the menace of sea pirates in the region. Almost on a daily basis, passengers and business people are being attacked by hoodlums who rob them of their valuables and means of livelihood. Many families have consequently been plunged into deprivation and want, INNOCENT DURU reports.
When Salvation Peter, a 31-year-old native of Sangana area of Bayelsa State, set out to get married last December, he did so confident that he had the means of livelihood to cater for his family. He was born into a family of fishermen and grew up to specialise in the trade.
After working with his father for many years, he raised sufficient capital to buy an engine boat in 2018. With that, he regularly went fishing, earning sufficient income to take care of his wife and the children their union would produce.
However, his optimism was shattered after an unpleasant experience with sea pirates.
"I have been fishing since I was a teenager. I got my first engine boat in 2018, but pirates collected it last December shortly after I got married," he said.
After the ugly experience, Salvation took a loan to buy another engine. This time, he was expecting the birth of his first child and had to work harder to make adequate provisions for the wife and the baby. But his efforts soon came to nought.
He said: "The second boat I took a loan to buy was also snatched by pirates last month. Some of them were beating me even when I didn't struggle with them.
"They only stopped manhandling me after one of them frowned at their action. I have been idle since then.
The President-General of the Maritime Workers Union of Nigeria (MWUN), Adewale Adeyanju, recently lamented the level of insecurity on the nation's waterways, which he said was hindering cargo movement.
Adeyanju, during an interactive session with journalists, lamented that barges are attacked by sea robbers while conveying containers at night, thereby frustrating cargo movement as well as discouraging investors from patronising water transport for fear that their goods are not safe.
He said: "If you convey a container from Lekki to Kirikiri Lighter Terminal at night, for instance, they can be attacked and robbed. It is no longer the issue of piracy again but robbery on the sea.
"The way barge operations are going, they are not safe too. How is the deep blue project going to work to support this gigantic project in the industry?" he queried.
Salvation's kinsman, James, has also had his dreams and ambitions shattered by the activities of pirates.
"I have been robbed of my engines by pirates twice," he said.
"The first time I experienced it, it was around 7am as I was returning from the river. They looked at my engine and said, 'This one too old nah. But even if it is too old, make we take am go collect fuel.'.
That first experience was last year. The second one was early this year. The first engine they stole was 30 horse power while the second was 70 horse power.
"For now I only have a boat and a few nets. I just go to the river to work for people now since I don't have engines to work with again.
"Because of the way the pirates operate, you have to look for fast engines like 60 t0 70 horsepower, and not 25 so that if you see signs that they are coming, you leave your net and fly away.
"If I am able to get 60 to 70 horsepower, it will help me a lot because I have a family to cater for. Now I am back to square one."
Explaining how the pirates operate, James said: "They come with a 200 horsepower engine and are always armed to the teeth. There may be up to eight to 10 persons heavily armed with the exception of the driver.
"They kill when you attempt to struggle with them. When they come, we normally lie down in the boat.
"The cruel ones among the pirates will in harsh tones ask you to pull your engines, and if you delay, they will machete you."
The Chairman of United Fishing Union of Sangana, Noel Ikonikumo has also not been spared by the pirates. While he narrowly survived an attack on the sea, he was successfully robbed in the creeks.
"The day that the pirates met me on the sea, God was so kind that they didn't take my engine. They only surrounded me with their guns but later left me.
"That very day, they collected five engines from other fishermen.
"But I have been a victim in the creeks on two occasions. They collected the engines and flogged us.
"On the second occasion, they attacked us, but when they wanted to collect the engine, a gunboat appeared and they left."
Decrying their losses to the pirates, Noel said:
"We spend a lot of money to buy fishing materials. Yamaha 40 costs more than a million naira. But after this huge investment, sea pirates would just come and take them away.
"Besides taking away the engines, they will flog you if they see that your engine is not sound.
"After collecting our engine and other things, we would be left floating on the sea. On occasion, they collect our phones too.
"At times it takes about two to three days for us to get home. Our family members would be apprehensive and would start searching for us during such periods.
"At times they would tell us to jump into the sea while they were removing the engine. It is after they have removed the engine that we would go into the boat. They would collect our pardours and anchors."
Tales of woe in Akwa Ibom
Checks revealed that the menace of sea piracy is not restricted to Bayelsa State. An encounter with Ilaje people from Ondo State living in Akwa Ibom reveals this much.
For many years, their economic life has been in a shambles following the losses they have continued to suffer at the hands of pirates.
One of them, Golden Ogungbemi, said: "Our greatest challenge is that of piracy. On an intermittent basis, the pirates have unfettered access to us and easily dispossess us of our engines at the sea.
"I was once dispossessed of my new hardboard engine. It was 40 horsepower, and I wasn't the only one involved.
"For us in Akwa Ibom State, we don't know if it is stage managed or something. That is the greatest challenge that we have.
"On a frequent basis, they collect our engines from the sea and so far there is no help coming from the government. Our waterways are very porous."
The pirates, according to Golden, don't come with the intention to kill but "to dispossess you of your engine and sell it at giveaway price."
He continued: "It is not that they want to sell it and make much money out of it.
"The hard board we are buying for N2.5 million and N3 million with hire purchase, by the time the pirates get hold of it, they look for any quick buyer that could give them N500,000 for it. They don't care because they are not the ones that suffered to get the money to buy the new one.
"The pirates don't come like gentlemen. As soon as they get close to you, they tell you to start bringing the engine out of the boat. If you greet them good morning, they will tell you it is a bad morning for you.
"They are armed to the teeth. These are the same guys who rob fishing trawlers and ships on the sea."
Asked if they sometimes get help after losing their engines, he retorted: "When your engine is stolen, you are on your own. The experience has brought some of our brothers to zero level. They have to start all over again by working with some other people or rely on help from other sources to get a loan and start afresh without any guarantee that the pirates would not attack him and collect the engine again.
"It is like a gamble of some sort. Any day that mother luck runs out on any of us, it will be the end of the engine for that fisherman."
The challenge, he said in a gesture of despondence, has pushed a lot of people out of business.
He said: "The outboard engine is the business for us. Our people don't value vehicles so much. Our vehicle is the outboard engine.
"Like the situation we found ourselves in here in Akwa Ibom, about 500 outboard engines were taken from us. Many were burnt while the new ones were taken away from us and sold during the crisis.
"Our engines as well as our boats are what some of the villagers are using to fish. It is a pathetic situation and it is unfortunate that the government is not looking in our direction.
"It is the case of a dog biting a man. If it is the case of a man biting a dog, it would have made so much news, and that is why the government of Akwa Ibom State is not looking in our direction."
Lamenting the rising incidence of piracy on the sea, Golden's kinsman, Felix Boaz, said: "I have been a fisherman since 1976. There was nothing like piracy back then.
"But what we are seeing now is nothing to write home about.
"In the past, you would go to the sea and return safely. Now you have to pray to return safely.
"You struggle to get money to buy an engine for N2.5 million or N3million on hire purchase and someone will just stop you and collect it, rendering you jobless. There has been no help from anyone all along."
Reliving his experience with the hoodlums, Felix said: "I have lost my engines to pirates twice and once to tempest. I borrowed money from LAPO to get the engines.
"I lost about N10 million to the menace of sea pirates. We have no security on the sea. The ones that are there always tell us they are there to protect government property.
"Many children have dropped out of school because their parents have no means of livelihood again as a result of the activities of pirates.
"I had children in private schools before they attacked me, but I had to withdraw them and enroll them in public schools because I couldn't pay the fees anymore.
"My children who were supposed to have written WAEC before now only did so recently because of the loss that I suffered."
Besides his personal experience, he said: "I have somebody whose engines have been collected by pirates three times. Many of the victims have become boat boys to other people.
"When we report to the police, nothing is done. Most of the time, we don't go to sea when we have signs that they are coming."
Cross River not exempted
Cross River State is also not exempted from the ungodly activities of pirates. Within the week, some pirates kidnapped the male occupants of a boat ferrying passengers from Calabar to Oron.
The assailants left behind all the female passengers, including a Catholic nun. The hoodlums were said to have waylaid the boat a few minutes after it had left Calabar enroute Oron, Akwa Ibom State.
Pirates collect ransom, decline release of stolen engines
After robbing the fishermen of their engines, the pirates, it was learnt, occasionally ask for ransom to release the engines back to them but oftentimes renege on their promise.
Salvation Peter said: "After they robbed me of my second engine, they got in touch and asked us to come and pay a ransom in order to collect the engines.
"They demanded N500,000 to release my engine. A new engine now costs N1 million. I bought the second engine that they stole for N750,000, excluding other expenses.
"To get back the engine, I went to borrow money from people. But after paying the ransom, they released the engine to me but I later found out that it was not mine that they gave me.
"I informed people around me that the engine wasn't mine and to avoid problems for myself, I avoided using it.
"Our people eventually found the owner. The person later paid me back the money I paid the pirates as ransom.
"Life has been very challenging for me since then because I have not been working. I recently went to work as a boat boy with somebody who paid me N8, 000 at the end of the day.
"I live at the mercy of kinsmen. The man that sold the engine to me gave me N100,000 because he saw my predicament. That is what I am using to manage with my family now.
"The creditors are disturbing me but I have no means of paying back. I took a loan of N300, 000 from one person to pay back N450,000 after six months. I had only paid back N50,000 before the recent attack."
In spite of his devastating experience, Salvation said he would not hesitate to take another loan.
"If somebody wants to lend me money to buy another engine, I will gladly accept it. I have been praying to God to help me avert such unpleasant experiences.
"Some people have been using their engines for the past 10 to 15 years without losing them to sea pirates. I will attribute my fate to bad luck."
Also speaking, James said: "After robbing you, they will ask you tob come and collect your engine with a ransom. But after paying the ransom, they may not give you the engine.
"Assuming they stole10 engines, they may release two after collecting ransom. They will later sell the remaining ones.
"The challenge is discouraging us from going to the river. We now pray fervently before going to the river.
I have been fishing for 19 years. There was nothing like sea piracy when I started fishing, but it has become a daily occurrence now.
"The sea pirates were previously into kidnapping before they moved into robbing us of our engines. They lay siege to the sea and rob us of our engines and all the fish we might have caught."
'No security on our waterways'
The fishermen have blamed their woes on lack of security on the waterways. They described the waterways as porous and susceptible to attacks.
"There is no security on the waterways," James said, adding: "If we had local security on the waterways it would have been better for us.
"The government owned security operatives we have on the waterways don't help us when pirates attack us. They will tell you they are there to secure the oil companies.
"Even if you report an incident to them, they will tell you it is not their job. They will say it is your brothers that are disturbing you; it is not our job to interfere.
"Even when attacks happen before their noses, they would not help you. Our association has made complaints to the government to no avail.
see how we can solve this problem, but there has been no solution. I am even afraid to buy engines because of my past experiences."
Comparing the waterways in Nigeria with those of Cameroon, Golden Ogungbemi said: "Here in Nigeria, there is no security on our waterways, unlike Cameroon where before you move for one mile, there is security presence.
"Their waterways are highly secured, but it is free for all in Nigeria."
The Chairman of United Fishing Union of Sangana, Noel, also flayed the porous nature of the seas.
He said: "We don't have security on the sea. The security men guarding these oil facilities don't care about us.
"The pirates are using high powered engines and you can easily identify them. They are always like five to seven in number while fishermen are three.
"If you see any boat occupied by more than three persons, you know that pirates are coming.
"If they are coming at times, we drive towards the gunboats and that would make them to go elsewhere.
"But on many occasions, when you report to them, they don't care. They will tell you that they will go after the pirates, but they won't do anything at the end of the day.
"The gunboats are for the oil facilities and not for us. There are so many of our members that that have been killed.
"Each time it happens, we report the matter to the police. They will collect our engine receipts, the number of persons they have killed and sometimes they will go over to make radio announcements, but nothing happens at the end of the day.
"After losing our engines, we sometimes go for bank loans or approach some local people. Sometimes we wouldn't have recovered from the previous loss before another one would happen."
We've reduced sea piracy drastically – Navy
Spokesperson of the Nigerian Navy, Commodore Ayo Vaughan, said the body has drastically reduced sea piracy.
"For the first time in 27 years, piracy has drastically reduced. Our men have continued to patrol the waterways in curbing the menace. We have employed kinetic and non-kinetic means in achieving this. Our men go into the mangrove to flush out the pirates using it as hideouts. Just last week, our men, together with sister agencies, intercepted pirates who wanted to kidnap some passengers in Oron and foiled their plans. Efforts are ongoing to release those who were abducted.
Source: The Nation Online