Dryad Analysis
Update 1: Initial source reporting indicated that a US Sentinel call sign had received word that the vessel had been boarded. It is subsequently understood that the vessel was not detained with the vessel believed to have entered UAE TTW around 1720 UTC and currently showing at the KFOR FAKKAN Anchorage.
Across the last reporting period IRGC forces are believed to have potentially attempted to interdict two vessels in the Persian Gulf. Information supplied by TankerTrackers.com indicates that the the first vessel the Marshal Island flagged MT FREUD (IMO 9804461) can be seen to be in transit in the vicinity of Kish Island off the coast of Iran on the 8th August, where she suddenly makes an irregular northward turn before sailing into Iranian TTW for 40mins before then turning South West and resuming her course inbound Khafji, Saudi Arabia.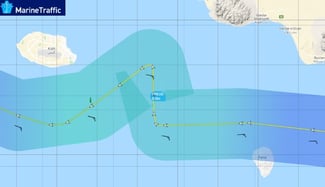 The second vessel the Panama flagged MT CHEMWAY ARROW (IMO 9367528) can be seen in transit on the 11th August inbound Jubail transiting close to Iranian TTW 22nm West of Lavan Island before also making an irregular northwards turn and subsequently can be seen drifting in Iranian TTW for approximately 6hrs before also resuming her course NE towards Jubail.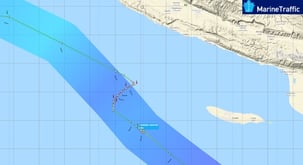 Neither vessel is understood to have reported any such incident or issue that would result in a sudden transit into Iranian TTW.
Update Ends.
Initial source reporting indicates that the MT WILA may have been targeted as a result of a previous linkage to Greek companies that were sanctioned by the US DoJ in June for their intended involvement in an Iranian Oil Shipment to Venezuela. The vessel is also insured via the American Steamship Owner P&I Association adding an additional dynamic to the potential boarding.
Iran's actions, whilst unconfirmed, must be contextualised. Greek-managed vessels have come to the fore in recent months following their willingness to trade oil exported from Iran to Venezuela. Such a move brought Greek-firms under international scrutiny, and in June of this year four vessels linked to Greek companies were blacklisted by the US. Following this blacklisting, future shipments of crude oil from Iran which were to be carried by Greek-managed vessels were scrapped.
If confirmed it is likely that this decision has raised Iran's ire, and that Iran has waited for an opportune moment when it can respond. The MT WILA is managed by the Greek-based 'IMS SA' with a Greek based registered owner of 'BANDIT SHIPPING Co' care of IMS SA. In targeting this vessel, Iran has potentially sought to send a clear message to vessels which decide to renege on their willingness to partake in, or facilitate, economic activities linked to the nation. Iran sees this issue as one of legitimacy, and Tehran would assert that its trading with Venezuela is open, transparent and does not break international law. Iran views US sanctions as an act of aggression, and those who backtrack due to the fear of sanctioning themselves as being complicit in maintaining this status quo.
Iran also has a domestic environment which provides ample reason to seek outside distractions. Iran's economy is flatlining, and the nation continues to struggle to contain the spread of COVID-19. Undertaking such an action now can help to displace and refocus growing public grievance within Iran.
It is crucial to underline that Iran's actions today do not raise the overall risk posed by vessels within either the Gulf of Oman or Strait of Hormuz. There remains a long-standing risk to vessels linked to nations which are embroiled in geopolitical and economic stand-offs with Iran, and this manifests itself in a heightened risk for US and Saudi-flagged vessels. Iran, if it decides to detain and hold the vessel, will likely use this as leverage against invested parties in negotiations for its release. It is important to note that the wider risk to vessels within the region, and especially Liberian-flagged ir US P&I vessels, has not increased as a result of this targeted incident.