The probability of maritime crime and piracy within the Gulf of Mexico negatively impacting commercial operators is low. However, a concerning trend is emerging in the Southern Gulf of Mexico states of Campeche, Tabasco and Veracruz. The Gulf of Mexico is home to some 2400 offshore oil production platforms and accounts for approximately 17% of US federal crude oil production, and 5% US federal natural gas production.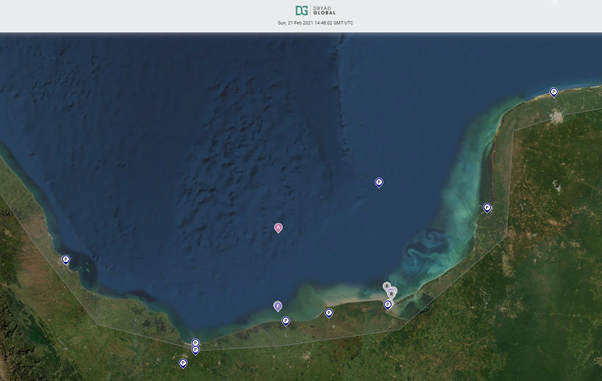 Analysis of maritime incident data indicates a strong targeting preference towards low freeboard and opportunistic vessels. The majority of those targeted within the Southern Gulf of Mexico are a mixture of fishing vessels and offshore supply and support vessels. In contrast to prevailing trends in the Gulf of Guinea, piracy within the GoM continues to have more in common with violent armed robbery offshore, perpetuated by disparate groups involved in low level criminality.
Thus far, the lack of persistent threat of kidnappings of crew for ransom indicates a lack of established involvement of serious organised crime. There is little evidence to indicate any association between offshore incidents and onshore cartel activity. Incident reporting trends indicate a strong trend towards the use of weapons and violence with heavily armed individuals showing both the capability and intent to employ violence as a means of intimidation and coercion in a bid to engage in opportunistic theft. There is currently little evidence of established targeting patterns that would indicate a preference for cargo theft. Most incidents are limited to petty theft of crew belongings, cash, and vessel spares.
There are strong indications that current rates of offshore piracy and maritime crime in the Gulf of Mexico are under reported, with a lack of formalised and coordinated reporting structures. Local news agencies have referred to hundreds of piracy incidents but these have not been verified. A recent MSCI Advisory 2020-008 states that the U.S. government is aware of at least 20 fishing vessels and 35 oil platforms and offshore supply vessels that have been targeted by pirates and maritime criminals since January 2018 in the Bay of Campeche area.
There is little evidence to indicate any association between offshore incidents and onshore cartel activity. With the significant legal and commercial requirements around the reporting of offshore incidents, it is assessed that attacks against commercial vessels have a degree of consistency in reporting. However, attacks against smaller vessels are likely to be higher. The uptick in incidents in the Southern Gulf of Mexico incidents is nonetheless a worrying trend for commercial operators in the region. It is a realistic possibility that in the medium-term attempts will be made to target larger vessels showing little or no vessel hardening. There are several established capacity building initiatives underway in the Gulf of Mexico between the Mexican Navy and the United States Coast Guard (USCG), which should lead to better coordination of resources and joint responses. However, although the Mexican Navy has increased security measures - notably through a $12 million investment in a search, rescue, and monitoring station in Dos Bocas, Tabasco - there remains insufficient surveillance and response capability to engage with maritime crime and piracy.
Added to which, spending cuts on diesel fuel have led to a partial decline in the operational footprint of the Mexican Navy, which has forced it to focus its operational efforts against illegal migration, Illegal fishing and search and rescue over combatting piracy and maritime crime.
The negative economic impact of COVID-19 on Mexico resulted in it suffering its worst annual contraction since the 1930s, as GDP fell by 8.5%. This is likely to enhance pre-existing economic deprivation amongst coastal communities and lead to a reduction in critical local initiatives designed to incentivise these communities away from crime. Areas such as Veracruz continue to experience high narco-gang related crime, with sporadic waves of violence including targeted assassinations. With onshore criminal enterprise on the rise, it is a realistic possibility that a similar increase will be seen within the maritime domain.