8 min read
Countering Smuggling in the Arabian Sea: Multinational Approach Delivering Results
By: AGSIW on March 14, 2023 at 8:00 AM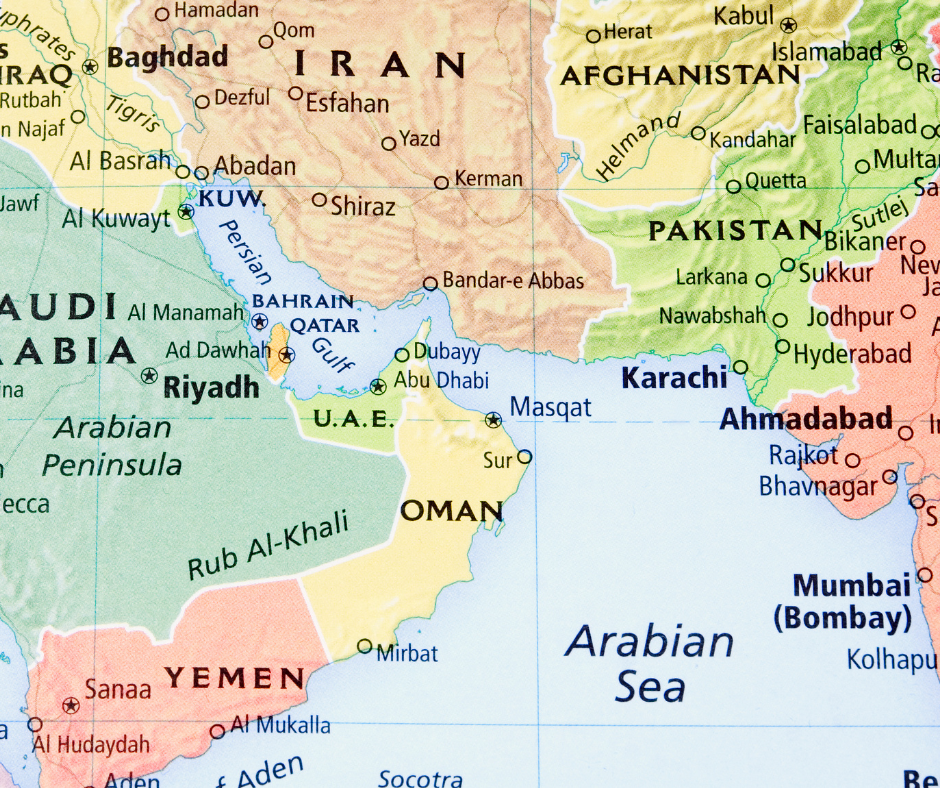 On December 27, 2022, while patrolling the Arabian Sea, the French frigate FNS Guépratte intercepted a fishing vessel aiming to smuggle illegal drugs.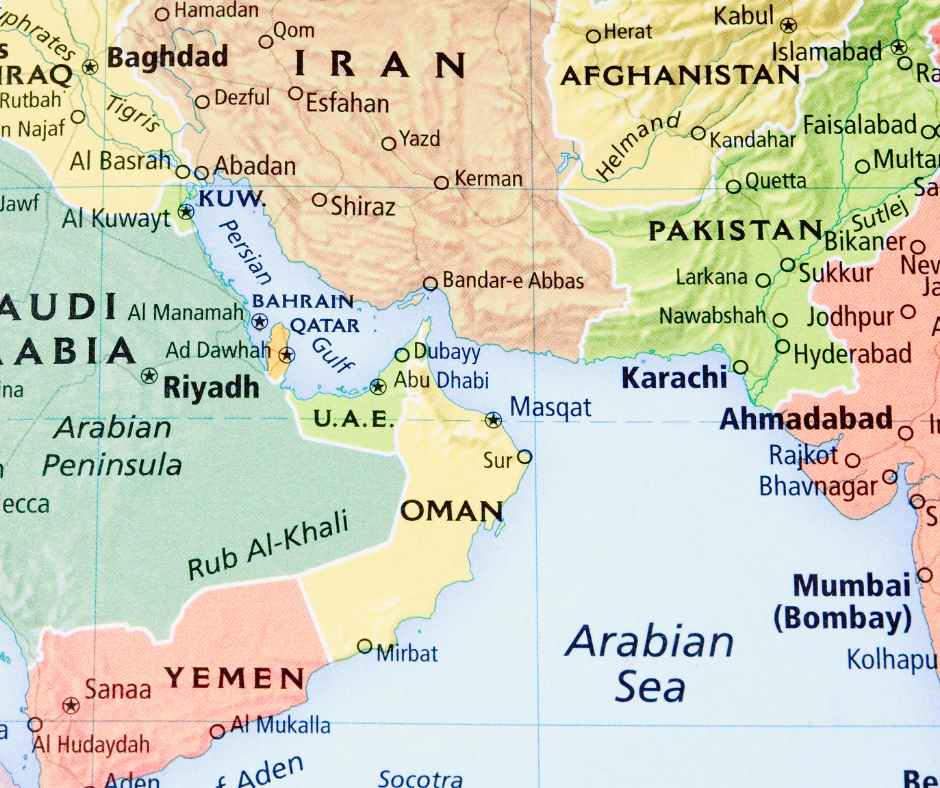 Laden with roughly 7,700 pounds of hashish and 1,040 pounds of heroin, the small ship was transporting an illicit cargo with a U.S. street value of $24 million. The French warship foiled an earlier major smuggling attempt in February 2022 when it captured a fishing vessel transporting almost 600 pounds of heroin in the Gulf of Oman.
Large-scale maritime drug seizures have become increasingly common from the Strait of Hormuz to the Bab el-Mandeb. Naval forces deployed in the region as part of the Combined Maritime Forces, a U.S.-led 34-country naval partnership, have confiscated almost $1 billion worth of illicit narcotics in countersmuggling operations since 2021.
Drug trafficking is only one of the many lucrative illegal activities for smugglers operating in the waters off the Arabian Peninsula. The U.S.-led naval coalition has also made significant strides in countering weapons smuggling networks in recent months. For example, the USS Chinook seized 2,116 AK-47 rifles from a fishing vessel in the Gulf of Oman January 6.
Concerned about potential spikes in the domestic consumption of illicit substances and the destabilizing reverberations of the region being flooded with weapons, littoral countries as well as their international partners are aware of the long-term risks of letting smuggling proliferate unchecked. However, an increase in interdictions alone has not been a strong enough deterrent to stop the illegal trade.
Drugs and Weapons by Sea
The Arabian Sea, a major East-West shipping route for energy products and commodities, has rapidly emerged as a hotspot of illicit trade. Strategically positioned at the intersection of Africa, the Middle East, and Asia, criminal networks have increasingly turned to this critical transit corridor to move illegal substances and materials.
While the lack of proper shipment documentation, serial numbers on weapons, and GPS tracking make it challenging to identify the origin and destination of seized illegal hauls, maritime interdictions reveal a few patterns. First, a large portion of smuggling dhows are intercepted on routes from Iran to Yemen. Second, most trafficking fishing vessels are stateless and operated by Yemeni crews.
As the high frequency of countersmuggling operations conducted in recent months highlights, the Arabian Sea has increasingly become a battleground in the fight against the unlawful use of international waters. On October 2, 2022, the British Royal Navy frigate HMS Montrose intercepted a fishing dhow laden with 1,900 pounds of crystal methamphetamine – worth an estimated $45 million – during a patrol operation in the Gulf of Oman. Eight days later, the U.S. Coast Guard fast-response cutter Glen Harris interdicted a fishing vessel with 11,000 pounds of hashish and 1,750 pounds of methamphetamine – an estimated $48 million worth of narcotics – stashed in the hold. On January 30, in the Gulf of Oman, the U.S. Coast Guard cutter Emlen Tunnell blocked a dhow carrying 8,818 pounds of hashish and 1,128 pounds of methamphetamine, together worth an estimated $33 million. Less than a month later, the U.S. Coast Guard cutter John Scheuerman seized nearly 2,980 pounds of hashish, 608 pounds of methamphetamine, and 50 pounds of amphetamine pills from a fishing vessel in the Arabian Sea.
Arms trafficking is also reaching alarming levels. On November 8, 2022, three U.S. vessels intercepted a fishing vessel in the Gulf of Oman, seizing more than 70 tons of ammonium perchlorate, an inorganic compound used in the aerospace industry to manufacture solid-propellant rocket fuel, and over 100 tons of urea fertilizer, which has agricultural applications but can be weaponized and turned into an explosive precursor. While attempts to smuggle urea fertilizer are not new (U.S. warships found 40 tons of the chemical compound in a stateless vessel in the Gulf of Oman in mid-January 2022) the seizure of ammonium perchlorate was a first for the naval coalition forces patrolling the region. The inorganic compound is among the most efficient propellants for high-powered rockets and can also be used for ballistic missiles. The explosive materials would have been "enough to fuel more than a dozen medium-range ballistic missiles depending on the size," said Vice Admiral Brad Cooper, commander of U.S. Naval Forces Central Command, the U.S. 5th Fleet, and the Combined Maritime Forces, all based in Manama.
On December 1, 2022, naval forces operating from the expeditionary sea base USS Lewis B. Puller confiscated more than 1 million rounds of ammunition, nearly 7,000 proximity fuses for rockets, and over 4,600 pounds of propellant used to launch rocket-propelled grenades. Similarly, a French warship conducting a routine maritime patrol in the Gulf of Oman seized more than 3,000 assault rifles, 20 anti-tank missiles, and 500,000 rounds of ammunition from a fishing vessel in mid-January.
Although recent seizures demonstrate the growing effectiveness of countersmuggling operations, they aren't a sufficient deterrent to smugglers. The trade-off between the risks and large potential profits still tilts in favor of the latter in the eyes of the smugglers and their bankrollers. Moreover, the flurry of illicit cargo on shipping routes across the Arabian Sea points to a growing demand for weapons and drugs. With ongoing tensions in the region, the intensification of unlawful transfers of weapons and narcotics could contribute to a steep deterioration of security conditions, both onshore and offshore.
Smuggling Pushed to the Background
Since February 2002, the Combined Maritime Forces partnership has been a bulwark against criminal, terrorist, and militant groups exploiting the security vacuum in the waters off the Arabian Peninsula. Under that umbrella, the U.S.-led Task Force 150 naval partnership conducts maritime security operations in the shipping lanes between the Strait of Hormuz and Bab el-Mandeb.
However, hard security threats – such as missile attacks, drone raids, booby-trapped boats, and limpet mines – have periodically moved smuggling to the background of security talks and strategic priorities. In recent years, the increased frequency of attacks targeting coastal infrastructure, oil tankers, and commercial ships in the waters off the Arabian Peninsula has partially overshadowed the long-term adverse ramifications of trafficking. Concerned about the severe damage that these high-impact disruptions could inflict on the regular flow of shipping traffic, states have often prioritized hard security threats over soft security threats like smuggling. Still, illicit trafficking remains a multidimensional problem with far-reaching consequences.
Snuffing Out Demand
Recent busts have lent a renewed urgency to scale up countersmuggling operations. However, interdictions and efforts to clamp down on the supply side, stemming the flow of illegal goods, regardless of their effectiveness in the short term, will not yield much without additional measures to address the demand side, too. Mindful that a one-sided approach overly focused on tackling the supply side will ultimately fail their long-term goal of eradicating trafficking from the region, decision makers should champion a strategy that considers both supply and demand.
Although smuggling networks thrive on security vacuums offshore, trafficking is primarily a symptom of a malaise that originates onshore. With most of the seizures by the Combined Maritime Forces members taking place along maritime routes from Iran to Yemen, the conflict in Yemen and, more precisely, the Houthis' ambition to achieve a decisive military victory, are fueling demand for arms and ammunition. Although warring parties have engaged in talks aimed at renewing a lapsed cease-fire, the mounting frequency of weapons shipments heading to Yemeni ports might indicate an imminent intensification of fighting.
Smuggling remains a multidimensional phenomenon, and aspects of its negative fallout tend to spill over miles away from its local epicenter. Studies by the Global Initiative Against Transnational Organized Crime have shown substantial evidence of weapons smuggled from Iran to Yemen ending up in Somalia's weapons markets. Therefore, curbing the influx of weapons to Yemen is critical not only for the war-ravaged country but also to promote stability in neighboring countries grappling with high levels of armed violence.
Boosting Regional Capabilities
Gulf Arab states have traditionally turned to external guarantors with greater military assets to promote regional security. France and the United Kingdom have each assumed Task Force 150's command 11 times. Pakistan, with an impressive 12 rounds as commander of the task force, is the only regional country within the Combined Maritime Forces to stand out.
However, concerned about a perceived waning U.S. commitment to the region and motivated by a desire to secure greater leeway in pursuing their geopolitical agendas, most Gulf Arab countries have scaled up efforts to enhance their maritime force projection capabilities. Saudi Arabia leads the way in countersmuggling operations. Since 2018, the Royal Saudi Navy has assumed command of Task Force 150 three times. From mid-July 2022 to mid-January 2023, Saudi naval forces logged 10,000 patrol hours and seized an estimated $250 million worth of illegal drugs.
Rough Waters for a Smuggling-Free Region
Forcing smugglers out of the Arabian Sea's shipping routes will not happen overnight. Criminal, terrorist, and militant networks will continue to seek to take advantage of the sea's vulnerabilities. Nonetheless, depriving criminal networks of illegal trade revenue and preventing malign nonstate actors from acquiring arms are critical steps for any initiative that seriously aims to bring meaningful security and stability to the region, both onshore and offshore. Should the pressure to crack down hard on smuggling networks operating in the Arabian Sea be pushed to the background due to the resurfacing of more immediate hard security threats, smuggling is bound to remain a recurrent cause of headaches for years to come.
Source: AGSIW